"Nikki Byford is one of the most amazing people I know! I just sooo love her treatments and her healing crystal oils, we have an amazing and magical sharing time together. I have moved so far forward in my self development connection with source and all that is through Nikki and her energy. I feel energised and alive after each session. I just love it! I whole heartedly recommend Nikki, her treatments and her ability to adapt to my needs on every level, every time! Thank you Darling xxxx" Sallie
****
"I would highly recommend Nikki to anyone who wishes to achieve a more balanced understanding of their lives, a more peaceful existence with their own body and mind and a deeper understanding of their own well being. Nikki creates a truly professional, caring, friendly space, in which to relax and de-stress. I generally feel much more centered, balanced and positive after,a treatment. I wouldn't be without her,thank you Nikki". Barbara
* * * *
"So far, I have had crystal chakra rebalancing which was a totally relaxing and amazing experience. I have had my first crystal ritual and am looking forward to the rest of my treatments. Nikki is the ultimate professional whose calm, caring and loving persona shine through. I feel totally empowered and more positive and calmer than I have for a long time. Thank you lovely Nikki and I look forward to continuing my journey with your love and support". Lou x
* * * *
"Having met Nikki last year she has helped on this most amazing journey. Each crystal ritual empowers me even more and encourages me to continue to develop my healing powers. Each experience is amazing and it is great to share this with Nikki who is a lovely, talented person. I really look forward to working with Nikki, she feels like my soul sister!! And we have such fun each time we meet. Her treatments are out of this world and truly great". Paula
* * * *
"I have been getting treatments from Nikki once a month for over a year now. Over this time I've had indian head massage, reiki and foot chakra and I love them all. During my next visit I will be having her new treatment and I can't wait. I always look forward to seeing Nikki and am always relaxed all the time I'm there....it's my but of me time and I couldn't think of a better way of spending it. Not only do I love the treatments I have but I love Nikki...we laugh and talk endlessly whilst I;m there. The whole package, Nikki and her treatments are fabulous and I would (and have) highly recommended them to everyone". From Debbie.
* * * *
"I've had eight wonderful Crystal Rituals so far and I can't wait for number nine! . Every one has been relaxing and uplifting. Each one is unique and a very special experience". From Lorraine
* * * *
"I was a sceptic till Nikki was recommended to me 18 months ago. She has a wonderful warm personality and from day one made me feel at ease and comfortable. I believe she is truly gifted. I started with Reiki and moved on to Crystal Rituals and have had some amazing experiences, both physically and emotionally. I am now a total believer and look forward to each session and the many benefits I gain from them". From Pauline
* * * *
"When Nikki asked me to write a testimony for her website I was delighted, however the words in which I write can not describe actually how amazing her treatments truly are !. I regard myself as a therapy junkie, I have had so many treatments over the years, different therapists and in many different countries. Nikki's treatments are hard to beat. She is one of a kind!. She is knowledgeable, genuine, caring and very special. She has the ability to make you feel amazing in a session and hold a safe place for you. For hours later and even days after you feel empowered and recharged. I highly recommend any of her treatments. She is an absolute angel, you would be a fool not to indulge in her therapies. Only wish that the world was full of more people like her !!." From Sharon
* * * *
"Nikki's treatments are always given with the up most care and attention to your comfort and needs, they are gentle and nourishing yet powerful and transformational. She always gives her unconditional love and acceptance and afterwards you feel like a new born baby. I cannot recommend her enough". From Sophie
* * * *
"Nikki is a very professional therapist who is intuitive to her clients' needs. I have had several Crystal Ritual treatments and can thoroughly recommend them as a totally uplifting experience". Thank you Nikki! From Chris @ Anerley Crystals.
My first editorial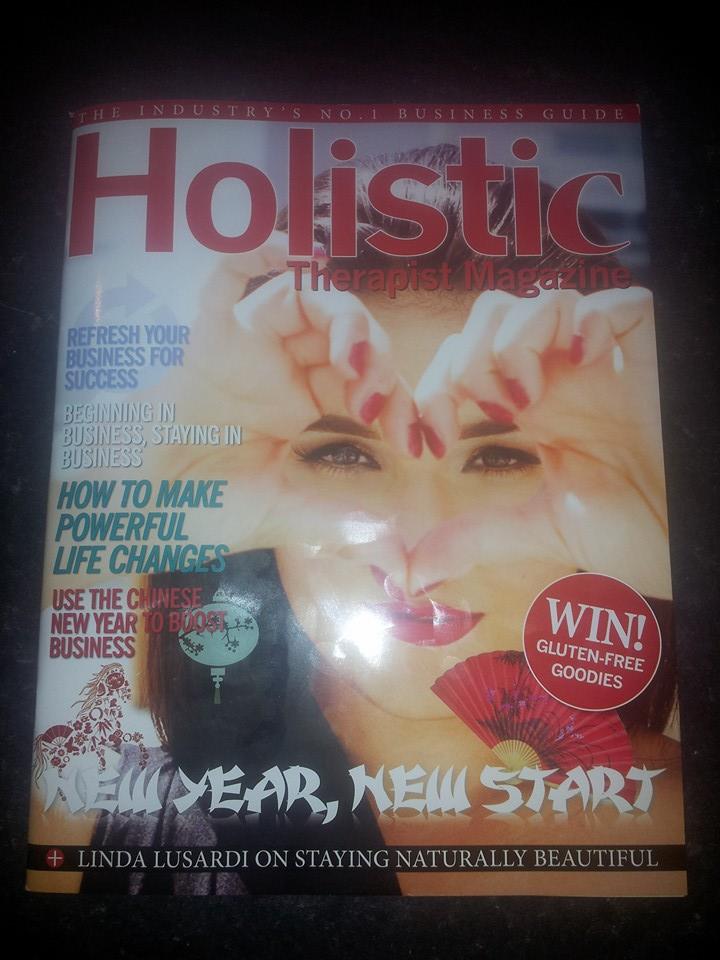 I am so proud that my crystal rituals has been included in Jenny's new book